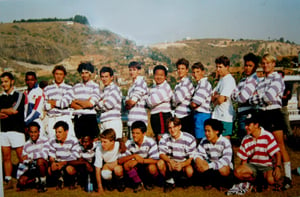 "Rugby is a game played with a ball among friends. And even without the ball, the friends remains ...". XOOS is a story of brotherhood that dates back to 1989. We met at the age of 12 on a rugby field in Madagascar. On the rugby field we fought for a common goal, we built a friendship and laid the foundation for our future project.
Our adolescence was strewn with wanderings across continents, yet our friendship remained strong despite the distances. After our journeys in Madagascar, Cameroon, the Democratic Republic of Congo, Laos, Cuba, St-Martin and Bangladesh, we ended up in Paris as students. Our project would eventually be born in Paris in 2004.
Using the tools we each possessed. Tools from our business education and from our exotic life experiences. Our project would come to life.
Having always been passionate about fashion, we believed a good shirt could distinguish a Gentleman's style. Our goal was simple: Prove that it is possible to sell high quality shirts, produced from meticulously selected cotton, at a reasonable price. How? By focusing on the product, not the marketing. With XOOS, you wear a shirt, not just a brand.
From this inspiration, XOOS was born. A brand that meets the most demanding requirements of women and men. Those wishing to distinguish themselves discreetly and elegantly by wearing unique shirts. Our concept proposes exclusive shirts, limited editions and new models weekly. The range in our collections is vast, from the traditional to the trendy. The XOOS brand is characterised by unique designs at the forefront of fashion.
XOOS is proud to offer diverse and eclectic creations that perpetually redefine the concept of a shirt. This is why the XOOS brand has become the new market standard. We hope you will like our shirts as much as we do.